bhyvecon Ottawa 2019
The first bhyvecon Ottawa took place Tuesday, May 14th at the University of Ottawa, a full day before the BSDCan Tutorial sessions. Thank you you all for attending! bhyvecon is the only conference dedicated to BSD Hypervisors including FreeBSD/Illumos bhyve, FreeBSD/NetBSD Xen, OpenBSD vmm, and NetBSD Xen/nvmm/HAXM.
Schedule
Sponsors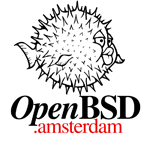 Ruben Schade

Trix Farrar

Thank you for your support!
Sponsorships
bhyvecon is looking for sponsors to help cover venue costs and to assist with speaker travel. Sponsor today though BSD Fund and contact Michael Dexter for more information. Non-anonymous sponsors will receive recognition on bhyvecon.org and at the open and close of the event.
Code of Conduct
bhyvecon is open to everyone and does not tolerate abusive behavior of any form. As a BSDCan mini-conference, bhyvecon Ottawa attendess must also observe the BSDCan Harassment Policy.
Please contact Michael Dexter if you have any questions regarding bhyvecon.
Ottawa Travel Tips
The #97 Bus travels between Ottawa airport and passes by the University. A one-way or return ticket can be purchased at the information desk at baggage claim. Rideshares are also an option. Many attendees will be staying at "90U" (map) at 90 University Private, and the venue is the Desmarais building (map) at 55 Laurier Avenue East. The two are a short walk between one another. There is a Starbucks in the Desmarais building and several more options a few minutes away to the right on Laurier.
bhyvecon Tokyo 2019 talks
March 20th, 2019
Thank you ScaleEngine for returning as the bhyvecon bento lunch sponsor!



bhyvecon Tokyo 2018 talks
March 9th, 2018
bhyvecon 2018 Work in Progress Reports
bhyvecon Tokyo 2017 talks
March 9th, 2017
bhyvecon Tokyo 2016 talks
March 11th, 2016
bhyvecon Tokyo 2015 talks
March 12th, 2015
bhyvecon Tokyo 2014 talks
March 14th, 2014
Tokyo Maps
Tokyo Travel Tips
Foreigners arriving at NRT can buy a discounted Narita Express ticket from Narita airport to various city stations with a day-specific return ticket for 4,000 Yen. Buying these separately will cost more.
For between 10 and 15 USD per day, you can rent a mobile Internet hot spot at the airport. Do not be alarmed if this provides you faster Internet access than you have at your home or office. DO shop around at the various counters at the airports. I saw capped plans for the first time this year but unlimited plans from another provider a few counters down. These providers also offer mobile phones.
To get around town, a Pasmo or Suica card will allow for easy subway and JR train access, plus can be used with some vending machines. There are easy-to-use machines to deposit cash onto your card. Use the card at the turnstiles to enter and exit the stations. Many if not most turnstiles will tell you your balance upon exit. If you fall short, the turnstile will not let you exit but there is an adjacent office where you can adjust your fare. Note that the subway and JR trains are separate. One may be more optimal than the other for many trips. Most rail trips are between 1 and 5 USD but note that Metro and JR lines are very different, despite often having the same station names and similar routes.
There is a currency exchange at each airport but your best option is to use an ATM/Bank Machine at a 7-11 convenience store. These are also a good source of snacks and there are affordable beverage vending machines on most streets.
Food. Tokyo offers Countless choices that can be surprisingly affordable. Do not tip! To do so is to suggest that they are not adequately paid.
Akihabara "Akiba" Electric City. Statistically, by attending AsiaBSDCon, you are a geek. A trip to Akihabara is well worth it. There is an Akihabara train station and if you are pressed for time, simply visit the Yodobashi Camera main store. Their apologies in advance if a certain song gets stuck in your head. From there, the streets and alleys (Map) offer an amazing array of new and vintage electronics. And yes, there is indeed a BSD-themed cafe, the ThinkFactory ThinkPad store, and an ARM/Arduino store.